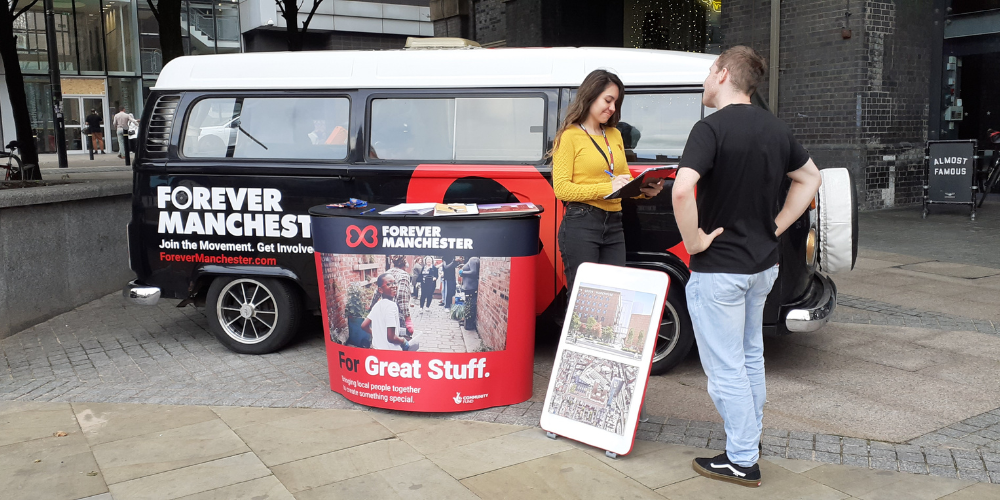 The Great Northern Warehouse and surrounding area has been the subject of speculation and planning discussions for several years.
Early in 2022, we were commissioned by the site's owners, Trilogy Real Estate, to carry out a socio-economic review and to write the Statement of Community Involvement to support a planning application.
Our engagement activity was carried out over two stages: soft engagement to inform plans for the public realm and the type of activity and businesses the site could accommodate, and formal engagement on the architect's plans.
The soft engagement involved:
Interviews and focus groups with councillors, key neighbourhood workers, and most affected residents and businesses.
Various surveys, including CABE's Spaceshaper tool, carried out onsite and in key locations.
Focused engagement with families and a home educated group.
Key objectives for the formal engagement were to inform people about the proposals, and gain feedback from a broad range of people, including residents, city centre workers and visitors. The feedback was summarised and presented in the Statement of Community Involvement, which was fully compliant with Manchester City Council's guidelines.
Activities for the formal engagement included:
Launch of a website dedicated to the site's development plans, which included news stories and surveys.
Further onsite surveying.
Four events which also showcased the architect's plans, models and drawings.
One of our favourite parts of this project was recruiting seven local young people to be community researchers. We trained them in the fundamentals of good engagement, the Market Research Society's Code of Conduct and the essentials of data protection and GDPR. The community researchers carried out the fieldwork on site, and in doing so, gained valuable skills and experience to pursue a career in engagement and social research.